Our Process backup
Every home tells a story.
Why not make yours one of the classics?
Experience the freedom of choice. No two people are alike and no two houses should be either. Your new home should be a wonderful reflection of you, incorporating your unique family, personality, tastes and lifestyle into every element. At Kristopher Homes we are here to listen to your desires and transform them into the home of your dreams. We are committed to quality construction, excellent service and relationships built on the foundation of integrity and trust.
We offer our customers several proven methods to successfully pursue and accomplish their new home dreams. Whether you choose from our portfolio of well-designed plans, and then modify one to suit your unique needs, or if you prefer to meet with our in-house Architectural Designer to create a one-of-a-kind custom design, we provide the same care and quality you deserve.
Either way we want to partner with you and take your home building journey together. Building a new home can be challenging, but over the years we have streamlined the process to make it as simple as possible. We take the stress out of home building with transparency and a straightforward process. You will be fully engaged with us every step of the way. Some of the advantages of this program include:
*Pre-designed plans that are easily modified.
* Quicker turnaround time for revised plans and pricing.
* Cost savings due to economies of scale.
* Less time intensive for busy families.
The following is a general overview of what we call our Semi-custom program:
If you don't already have a lot, start by browsing our selection of fabulous communities and gorgeous properties.
Next, review out extensive portfolio of customizable floorplans, or provide us with plans of your own.
Once you've selected your perfect lot and plans, we will help you secure financing, obtain all of the necessary building permits for you, and answer all your questions along the way.
Visit our design studio. Our design specialists will help you select all of the interior and exterior details of your new home including cabinets, flooring, light fixtures, paint colors, and more.
Construction begins. This is the exciting part! Throughout the construction process, your personal project manager will work closely with you and keep you informed of our progress to ensure a smooth and stress-free project. A number of walk-throughs will take place to ensure your complete and satisfaction. Of course, you're always welcome at your home site anytime.
At the end of construction, a pre-occupancy inspection and orientation will be held prior to your moving in. This gives you an opportunity to confirm that the work completed meets the quality standards outlined in the contract documents.
Time to move in to your dream home! We will be with you then and for a full ten years afterwards through the comprehensive HBW-10 warranty.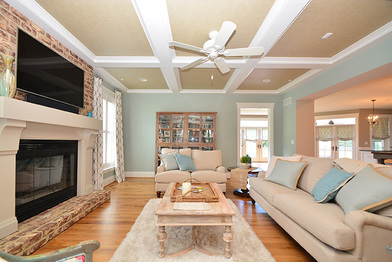 At Kristopher Custom Homes, we pride ourselves on developing great relationships with our clients. We are here to guide you, answer your questions, and celebrate your new home with you each and every step of the way.
To learn more about our award-winning custom homes, please click the Schedule Consultation button below or call us at 410-879-1170.